SEA – ROAD – RAIL – AIR FREIGHT● ON TIME ● EVERYTIME ● NO EXCUSES ● WE DELIVER
At DTS we provide the full spectrum of freight services including sea, road, rail and air transportation. No matter the size of your cargo, we will always make sure we provide you with the most suitable solution for your transport requirements. We will guide you towards the most optimal solution based on your cargo characteristics, including size, nature and volume, as well as the time frame for delivery. Whether you are in need of a regular service or you opt out for a spot shipment, our dedicated team is ready to assist you and ensure your consignment reaches your destination: door-to-door, port-to-port, airport-to-airport. DTS provides a customer-oriented approach and will  ALWAYS  offer you the most cost-efficient route across the globe. Our main purpose is to maximize efficiency whilst minimizing time and reducing resource waste.
We are in a leading position when it comes to carriage by sea, being proud to have a large portfolio of satisfied clients that chose to work with us and have throughout the years maintained a regular collaboration. We pride ourselves in organizing shipments from A to Z, taking into account various factors that would enable us to provide our clients with the best market rate and shortest route. Our complex range of services refer to 20' & 40' containers, LCL, FCL, dry bulk, break bulk,  liquid logistics, tankers, RO-RO and many more.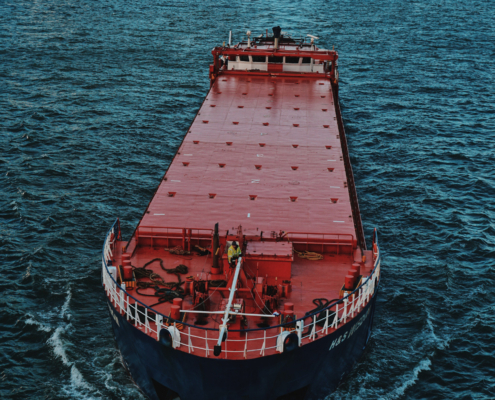 OCEAN FREIGHT
Since 2007, the ocean freight sector remained our top-priority, developing great business relations with Romanian traders and distributors, but also with clients from the Far East and the Indian Subcontinent. We also prioritize the transit time, ensuring that our customers' consignment would arrive to final destination without undue delay (agwwp). The well-established collaborations with the large carriers allows us to offer diverse freight options, keeping the costs at minimum. Given that our company provides agency and customs services, opting out for a full package of services- including sea freight -would symbolize a reduced overall tariff. We do not need to sub-contract third parties for local operations, this being one of our most crucial advantages. In terms of stevedoring, we collaborate with our group company that is one of the pioneers in the Port of Constanta. Operating on a large terminal, our group is able to provide you with efficient stevedoring services, storage and extra services.
ROAD FREIGHT
Because we aim for the most qualitative service, we often assist our clients with personalized supply chain solutions that include multi-modal transportation. This means that we retain the capacity and experience to organize the entire journey from the supplier's warehouse abroad to the Port of Constanta and then to the consignee's door – final destination. For this, we use third-party trucking companies, with whom we worked with for several years, establishing prosperous business relationships. We are NOT  a trucking company, but we do our best to provide our customers with qualitative services that are complex, professional and fulfilling. Upon availability and volume, we are be able to assist you with road freight quotations from ex Romania to European destinations. The same applies for export operations.
RAIL FREIGHT
One of the most recent achievements regards our DTS RAIL CARS, in collaboration with DB SCHENKER. We provide regular weekly services to our customers with various bulk consignments. We would be glad to assist you with any rail inquiry you may have. Crucially, we are able to discharge your cargo straight from the vessel and and do transhipments by crane onto rail cars. This way, precious time is saved whilst cost-efficiency is prevailing. 
AIR FREIGHT
Nonetheless, we want to cover all areas of transportation, providing diverse solutions to fulfil urgent delivery time frames. Our airfreight qualified personnel is able to offer competitive quotations and services to suit your requirements. In the past years, we were able to conclude business collaborations with commercial airlines, partners across the globe and most importantly – with our clients. The demand for airfreight inquiries has drastically increased since 2020, drifting into one of our strongest tools at DTS. We generally work with clients that need valuable cargo, samples or spare parts to arrive fast, safe and intact. Our airfreight experts are able to coordinate with you and provide competitive quotations, with the option of road freight from the airport to your warehouse or door step. This is a premium service destined for clients that require short travelling time, safety and care when it comes to their consignment. Contact our experienced staff to further discuss your inquiry!
Our dedicated team is always available to schedule a meeting and discuss your inquiry down to details. We are professionals that base activity strictly on transparency, honesty and communication. Regardless of your inquiry, we will always make sure that our work will bring customer satisfaction! With every delivery, DTS reserves its rights to taylor-made freight solutions to tick all your boxes!
We guarantee the best fusion of: advantageous market rates, fast delivery & transit time, effective logistics solution, care, dedication and professionalism!